🤔Are your investments on eToro protected?
After what happened at Silicon Valley Bank we reviewed what are the risks of putting your money on eToro in case of bankruptcy.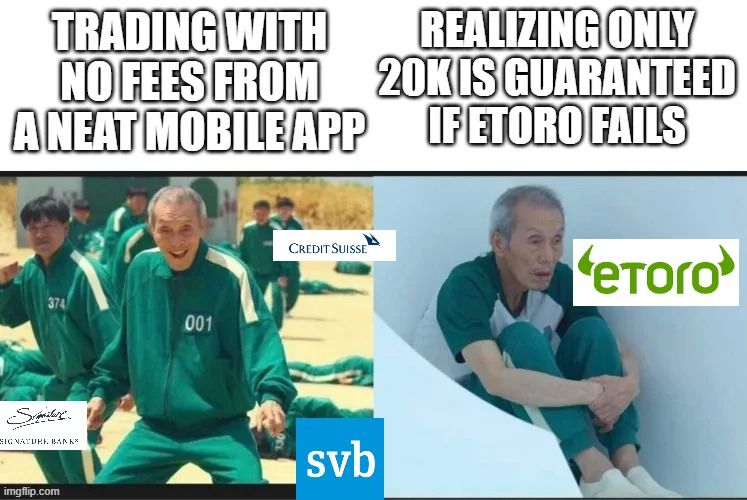 What happened during the $SIVB (SVB Financial Group) run in 2023 serves as a reminder not to be over-exposed to any single financial institution. Without government intervention, those with more than $250.000 in their account could have lost everything above such an amount.
But what about my trading platform? Is eToro safe🕵️‍?
The amount of protection you receive depends on your account's jurisdiction and access to real stock assets instead of CFDs. Here's what you need to know to safeguard your investments.
I have been investing in eToro since 2010, they are not new, but my funds have been growing to a significant number so, how much of this is guaranteed? My account is Chile-based and under Cyprus jurisdiction. It means 2 things:
 📌 First, I now only have access to CFDs contracts, so no actual companies papers (aka stocks) are under my name and everything I invest in is owned by eToro.
 📌 Second: if eToro happened to fail and go bankrupt, the Cyprus authorities guarantee up to 20.000 Euros. After which I am on my own 💸. If you have access to real stocks instead of CFDs, these are real assets bought under your name by Etoro. You even have voting rights. In this case, if eToro goes burst, you should not have too much trouble transferring your stocks to another broker (even though the fact they don´t currently let you do that adds some uncertainty). If your account is under UK jurisdiction, the guarantee goes up to 85.000 GBL. Here is the official eToro doc link for more details.
What about eToro Additional Funds Insurance of 1 Million Euros?
Update from May 2023: eToro contacted me to note that Platinum+ and Diamond's customers are covered by additional insurance as promoted on their webpage. But the devil is in the details. Here is what they promote:
The free insurance is only available for Platinum + and Diamond Club customers of eToro (Europe) Ltd. and eToro AUS Capital Limited suffering losses due to the unlikely event of eToro's insolvency and in case of an Event of Misconduct (as defined in the applicable policy). The insurance covers (i) up to 1 million euros or AUD (depending on the regulated entity), (ii) up to the aggregate limit purchased by eToro; and (iii) subject to an excess amount (as defined per applicable policy). The insurance covers cash, all CFD positions, and securities. Note that REAL cryptocurrency positions are not covered by this insurance, as set in the applicable policy
The link provided is not the actual policy but a summary of it. After a few back and forths with eToro support, I finally got my hand on the full policy document. Here is what I learned.
📌  The maximum aggregate amount payable by the Insurer to the Insured in respect of all Claimants' Net Losses is USD 10,000,000. It means that if eToro goes bankrupt, and the aggregated funds from Platinum+ and Diamond member is more than 10 Million AUD, you are not getting all of your money back. You need at least 50k USD to be Platinum+, so let´s say Platimum+ & Diamond members have an average of 75k USD in their account, then the guarantee would only cover 133 customers in each jurisdiction, 182 if I consider the basic Cyprus guarantee of 20k Euros.... which seems too low.
📌 There is a "retention" of 20k, so you are sure to lose at least 20k USD over the Cyprus basic guarantee of 20k euros.
📌 In respect of open contracts (such as options for futures contracts and CFDs), this Policy will only cover the collateral put up by Claimants to support such open contracts and not the value of the open position. It means if you have a multi-bagger position (like you bought AAPL CFD position 10 years ago), the insurance only covers what you have put as your initial amount when you opened the position.
Conclusion
𝙄𝙣 𝙨𝙝𝙤𝙧𝙩, 𝙞𝙛 𝙮𝙤𝙪 𝙝𝙖𝙫𝙚 𝙢𝙤𝙧𝙚 𝙩𝙝𝙖𝙣 𝟮𝟬.𝟬𝟬𝟬 𝙀𝙐𝙍 𝙞𝙣 𝙮𝙤𝙪𝙧 𝙚𝙏𝙤𝙧𝙤 𝙖𝙘𝙘𝙤𝙪𝙣𝙩 𝙖𝙣𝙙 𝙤𝙣𝙡𝙮 𝙗𝙪𝙮 𝘾𝙁𝘿𝙨, 𝙮𝙤𝙪 𝙨𝙝𝙤𝙪𝙡𝙙 𝙗𝙚 𝙬𝙤𝙧𝙧𝙞𝙚𝙙 (think of splitting your funds across multiple brokers). 😟 Everybody should do the same check with their financial service providers, including their banks.