🎢5 value AND high growth stocks on Christmas sale.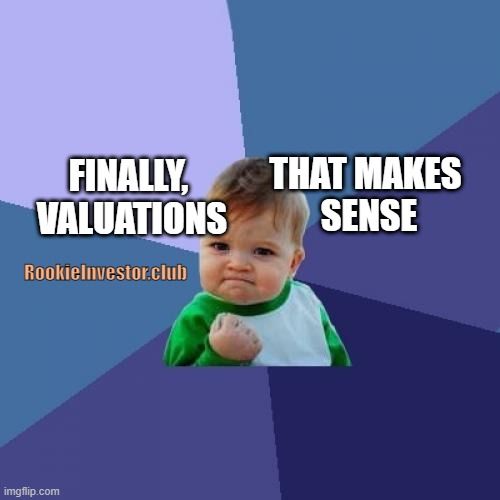 Yes, deep value and high growth do not usually come together. This is precisely why I think, like Cathie Wood, this is an extraordinary time to invest in the stock market.
I applied the same valuation method I explained last week, but this time to find undervalued stock to either buy or add to, from a watchlist of 300+ stocks I built over time.
Here is the list of my strongest convictions stocks, which combine attractive valuations and high scores on my quality companies scorecard.
| ticker | company | Market Cap ($B) | Quality company score | Mean Analyst Target price upside | Past Free Cash Flow Growth | Analyst FCF Growth Forecast (N3Y) | Implied FCF Growth (N5Y) | Insider Buying? |
| --- | --- | --- | --- | --- | --- | --- | --- | --- |
| DOCU | Docusign | 31 | 16 | 36% | 113% L12M | 150% | 44% | Yes |
| ALGN | Align Technology | 48 | 15.5 | 25% | 30% L5Y | 72% | 35% | No |
| AXON | Axon Entreprise | 11 | 14 | 39% | 26% L10Y | 80% | 52% | Yes |
| NOW | ServiceNow | 120 | 14 | 21% | 62% L5Y | 65% | 46% | Yes |
| CHWY | Chewy | 25 | 15 | 28% | 500% L3Y | 80% | 64% | Yes |
| SNPS | Synopsys | 53 | 14 | 11% | 62% L3Y | 40% | 30% | No |
| ZBRA | Zebra Tecnologies | 31 | 13.5 | 9% | 28% L3Y | 24% | 16% | No |
| THO | Thor Industries | 6 | 10 | 43% | 7% L5Y | 10% | 3% | Yes |
| FTNT | Fortinet | 55 | 16 | 10% | 34% L5Y | 33% | 32% | No |
| ADBE | Adobe | 262 | 21 | 24% | 28% L5Y | 29% | 26% | No |
Cash Flow Positive
All the stocks in the above list are Free Cash Flow positive and are expected to keep growing at double or triple digits.
Moat
All the stocks listed have a strong moat in the form of either network effect, switching costs, recurring purchases, cost competitiveness, barriers to entry, intangible assets or a mix of all of it. Thor Industries is the only exception to that rule with only a weak moat but compensated by a really cheap valuation.
Optionality
DOCU is expanding from its leading digital signing solution to contract lifecycle management.
AXON went from a taser manufacturer to a cloud solution to make law enforcement more efficient and is still at the beginning of this growth story.
NOW is an enterprise process automation platform. The fact it has firsthand access to companies' data and challenges makes their optionality endless. Their latest release launched an employee onboarding solutions, an AI-powered automation opportunity detector, and a low code mobile app builder.
ZBRA went from a barcode scanner and printer manufacturer to a full-fledged enterprise asset intelligence. Zebra produces and manufactures various information-capture equipment, including barcode scanners, radio frequency identification devices (RFID), and real-time location systems (RTLS). It also supplies corporate software to assist businesses in gaining insights from device-based information flow.
ALGN is best known for its leading Invisalign dental plastic aligners. Still, it is rethinking the dentist's treatment experience with end-to-end digital workflows that make it easy to scan, plan, treat, and monitor patients. Dentists can now take digital scans of teeth through iTero, get computer-modeled digital treatment plans through Align's own ClinCheck, interact with patients through Invisalign Virtual Appointment and Invisalign Care, besides selling those plastic aligners.
CHWY is an online pet food and supplies retailer. It is embedding its "auto-ship" feature in its clients' consuming habits by leveraging discounts and free value-added services such as "connect with a vet" feature. This also makes his pharmacy offering more sticky and creates a lot of synergies with their future pet insurance services.
SNPS is one of the leaders in chip design software, but has since expanded to silicon intellectual property management and other industries such as photonics design, optical design, and 3D imaging processing.
FTNT is a legacy player in the Cybersecurity space, and started as a hardware provider, first for IT departments within companies, then for data centers. Since then, Fortinet successfully expanded to a SaaS model, now accounting for more than half of its revenues. Fortinet is continuing to develop new services to complement its best-in-class hardware. It recently announced a partnership Spain's Telefónica Tech to create a new managed security solution for out-of-office workforces in Europe and beyond.
ADBE is an innovation machine and has expanded from the infamous PDF format to e-signing, from Photoshop to a full creative cloud offering, and from Adobe Analytics (aka Omniture) to a full suite of client experience solutions that include e-commerce payment services. They sure won't stop expanding their flywheel anytime soon.
THO has less optionality than the rest of this list. Still, it recently purchases an RV accessories maker, which gives Thor Industries a new runway for growing: the RV parts business.
Skin in the game and grit
Most of these stocks have stellar Glassdoor ratings, high insiders ownership, inspiring mission and are founder-led. Insiders have been buying stocks, in the past 2 months, of DOCU, AXON, CHWY, THO, and NOW. CHWY and THO have a double insider signal, meaning competitors' insiders are also buying (FRPT, WGO and CWH). It makes me more bullish about their sector.
Valuation
I selected these stocks because I calculate the market expectations (as the Free Cash Flow implied growth) to be lower than what it has achieved in the past or what analysts expect it to grow in the next 5 years.
60% of the scoring process is automatically done daily by a program I have built. The other 40% is done manually. I have scored 145 stocks up to now. You can search for a stock score here, and subscribe to my Slack workspace to see the scoring in real-time.
Verdict
Based on the explained method, all the stock listed passes the quality company check and are either fairly valued or undervalued. Some even have bonus insiders signals. I am making a double bet on DOCU, AXON, NOW and CHWY because they check everything I need to be bullish over the next 5 years. I am also adding a smaller proportion to the rest of the listed stock.
Disclaimer
The author of this post owns shares of the listed stocks. The Rookie Investor recommends the listed stocks. The Rookie Investor has a disclosure policy. This article by The Rookie Investor is not financial advice as it does not take account of your objectives, or your financial situation. We aim to bring you long-term focused analysis driven by fundamental data. Note that our analysis may not factor in the latest price-sensitive company announcements or qualitative material. eToro is a multi-asset platform that offers both investing in stocks and cryptoassets, as well as trading CFD assets. Please note that CFDs are complex instruments and come with a high risk of losing money rapidly due to leverage. 67% of retail investor accounts lose money when trading CFDs with this provider. You should consider whether you understand how CFDs work, and whether you can afford to take the high risk of losing your money.
Have feedback on this article? Concerned about the content? Get in touch with us directly.