Meet Adobe: a good old boring software company and investment
Is it a good time to buy Adobe Stock (ADBE) now? I try to answer this by analyzing Adobe´s business and story about its future.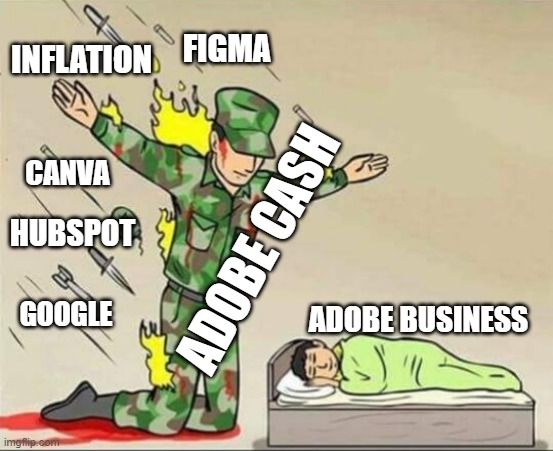 Adobe's business primarily sells specialized software subscriptions for the creative professional community (photographers, video editors, graphic/experience designers and game developers). It includes the famous Photoshop, Illustrator, Indesign, Premiere, a 3D/VR design suite called "Substance" and many more (they have over 20 products in this category). This niche, which they call "Creative Cloud" represents 61% of its total revenues. The rest comprises its "Document Cloud" (12% of its revenue, includes Acrobat and Adobe Sign) and its suite of "Digital Experience" software aimed at marketers to create, manage, execute, measure, monetize and optimize customer experiences (24% of its revenues, including Magento, Marketo, Analytics/Omniture and more).
Adobe bull case story
Adobe products are the essential toolkit for any creative amateur and professional. It has been successfully transitioning to a subscription business model where all its product suites complement each other in an unbeatable net of cross-selling opportunities for current and future creative professionals.
There is no serious alternative for this niche, and the number of professional creators subscribing to Adobe cloud has been growing at a 17% annual rate since 2017. There is no reason for it to slow below 12% in the next 10 years to reach 100 million paid subscribers, as the rise of the creator economy only strengthens the demand for design services and creators in general. Then there is the much-hyped "metaverse" of interconnected virtual worlds, which will be full of digital objects Adobe's tools help build.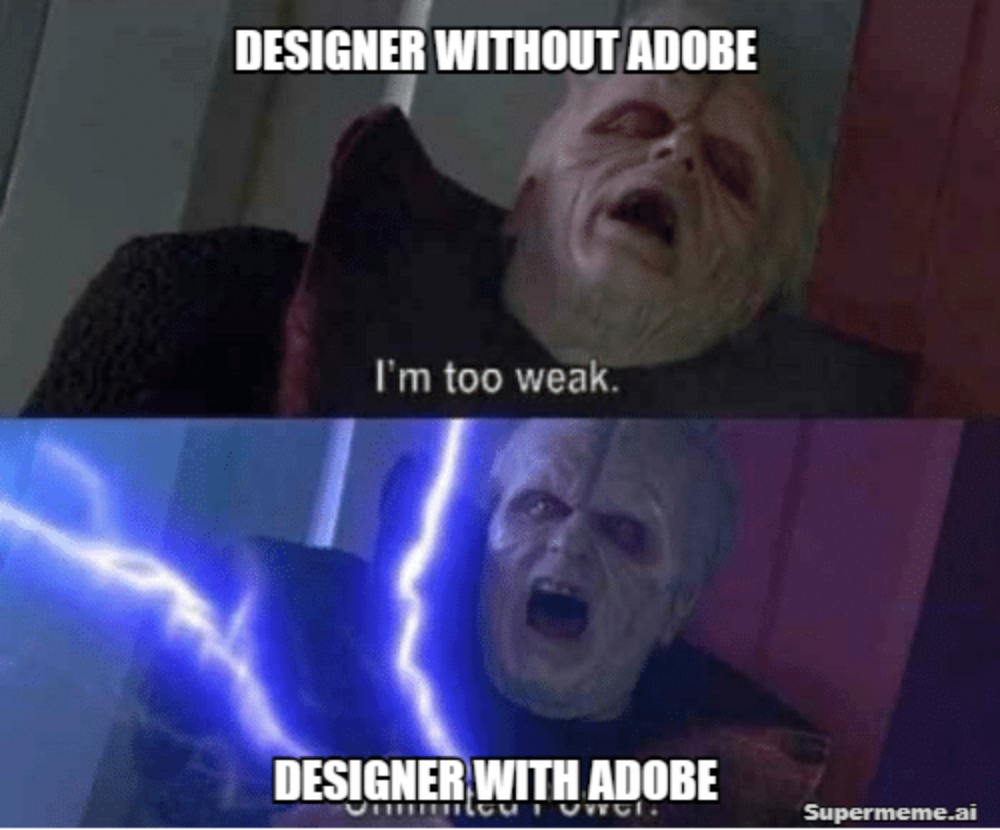 Its growing suite of solutions for marketing professionals fits nicely with its design solutions, as designers and marketers usually work closely together in the corporate world. This way, Adobe multiplies its go-to-market strategy and entry point into the enterprise to make itself more indispensable by the day. The fact that its suite of design and marketing products are working better together builds up its organic growth potential, besides strengthening its pricing power. Its average ARPU growth per customer should accelerate from its current 5% rate to at least 7% per year.
Adobe bear case story
The creators' economy is built on self-funded entrepreneurs with low budgets who have been keen to skip the professional designer fee to produce their simple design materials thanks to platforms like Canva or the same Adobe Express.
Canva has been growing at an astonishing rate and has at least 10x more unique users than Adobe Express, and 7x more than Behance.net (Adobe Designer Social Media platform), according to SimilarWeb data. It means the demand for designers may not be accelerating in the future; quite the contrary.

Plus, there is a growing offering of AI tools (Midjourney, DALL-E)  able to transform a text prompt into a state-of-the-art picture or design, which could replace many basic human tasks in the design process. Adobe has integrated some of this tech in its "sensei" AI within its product suite.
Adobe has already penetrated  47% of the 68 million total addressable creative pro market (estimated by Adobe themselves). Adobe could reach 52 million paying subscribers by 2032, which means its user base would slow its growth to 5% per year. As competitions for lower-priced tools intensify, so does Adobe's ability to grow its ARPU, hence depressing its gross margins. The fact it has to maintain literally 50+ different software makes economies of scale less obvious.
On the marketing professional side, it is competing with behemoths like Salesforce, Google and Microsoft, who have quickly expanded their cloud services and industry-specific go-to-market strategies. For example, Google offers a "cloud for marketing" suite to bridge the value gap between web measurement leader Google analytics, CRMs and "know your customers" data lakes, also known as CDP. These formidable competitors far outpace Adobe in terms of sales team scale. Maintaining its market share will prove to be a difficult task.
Adobe Rookie Scorecard
Network effect: 2/2
Adobe's value proposition increases and marginal cost decreases as it swallows new products such as Figma, Marketo, Substance and more. The more its product ecosystem work closely together, the more it increases its organic cross-selling capabilities and decreases the cost of serving new customers.
Switching costs and price premium: 1.5/2
Try learning to use Adobe Illustrator or any of its professional tools, and you will understand why switching to another software is a pain. Plus, most design pros send their work in Adobe formats, so you need Adobe software to open it.
Revenue Quality: 2/2
Recurring monthly subs purchases with short repurchase cycles and long-term commitments for its enterprise solutions.
Profitability: 3/3
Its 34% operating margin is astonishing, expanding, and much better than most of its competitors.
Barriers to entry: 0/1
Nothing I can think of
Intangibles: 1/2
According to Interbrand 2022 ranking, Adobe's brand is in the top 25 of the world's most valuable brands.
Future Growth: 1.5/3
Adobe has entered many new niches, such as 3D and game design, document e-signing, e-commerce platforms and cloud data management. However, most of this "innovation" happened through acquisitions instead of internal capacity, which makes such growth more expansive with lower returns (i am looking at you Figma 20 B$ bill)
Capital allocation Health: 1/1
Very sound balance sheet management, Summed up by GuruFocus Financial Strenght Score
Concentration in either clients or products: 0/-2
No client represents more than 10% of its revenues, and 40+% come from outside the US.
Resilience: 1/1
It produced profits in each of the past 10 years.
Value creation Track Record: 3/3
Despite the challenging macro environment, it has expanded its free cash flow at a 24% annual rate over the past 5 years and 10% over the past 12 months.
Exposure to economic cycles: -1/-2
Professional tools are still needed if you want a job. However, if enterprise customers trim their workforce, it can mean fewer licenses to pay to Adobe.
Other macro risks: -1/-2.
I rest a point here because of the rise of self-serving design tools such as Canva coupled with image generation AI, which represents a threat to Adobe's core demand.
Company´s management Grit (mix of passion and perseverance): 1/3
Adobe´s Glassdoor rating is very high, one of its founders is still on the board, and its mission "help people imagine, design, and create a better world" is dope, but insiders own less than 1% of the company.
Smart money signals: 2/4
About as many hedge funds opened new positions as there were closing positions in the last quarter. Analysts´ mean target is just 14% higher than the current price, but there was insider buying last September from both a director and the CFO. I love it when the CFO believes in their employer by buying shares.
Is it a good time to buy Adobe Stock (ADBE) now?
Averaging the bull and bear case I explained earlier, I forecast total revenues of $63 Bn. 10 years from now, with a stable operating margin. You can access to full DCF model for ADBE share fair price here. I get to a value close to the current price, into the single-digit overvaluation.
Given Adobe's robust scorecard (top 10% of my watchlist with 16 points), its current valuation is compelling if you closely monitor their revenue growth rate in the next few years. The company has repeatedly proved that it can prosper by embracing change rather than fighting it. I would worry if its growth slowed to the single digit. I am also assuming its operating margins remain stable over the year. If it drops, it would be another cause for concern.
Last but not least, Adobe announced its intention to acquire Figma, a fast-growing software design tool market competitor, in September 2021 for $20 billion. The deal has raised concerns among investors and analysts, with 53% currently rating Adobe shares as a buy compared to 80% before the announcement. Regulators are closely examining the acquisition, but Adobe remains confident it will close the transaction in 2023. Some analysts have expressed skepticism about the deal, while others find it more exciting and call Figma "less of a direct competitor of Adobe and more of a multifaceted opportunity."
My take is that Adobe has a lot of experience making acquisitions successful, and it will make sense 10 years from now, whatever Figma price tag is today. So yes, I think Adobe is a good company to invest in right now if you are in for the long term and don´t put all your eggs in the same basket.
Disclaimer
The author of this post owns shares of ADBE. The Rookie Investor recommends ADBE. The Rookie Investor has a disclosure policy. This article by The Rookie Investor is not financial advice as it does not take account of your objectives, or your financial situation. We aim to bring you long-term focused analysis driven by fundamental data. Our analysis may not factor in the latest price-sensitive company announcements or qualitative material. eToro is a multi-asset platform that offers investing in stocks and cryptoassets, as well as trading CFD assets. Please note that CFDs are complex instruments and come with a high risk of losing money rapidly due to leverage. 67% of retail investor accounts lose money when trading CFDs with this provider. You should consider whether you understand how CFDs work, and whether you can afford to take the high risk of losing your money.
Have feedback on this article? Concerned about the content? Get in touch with us directly.