Nvidia is up 45% since I closed my position... this is how I feel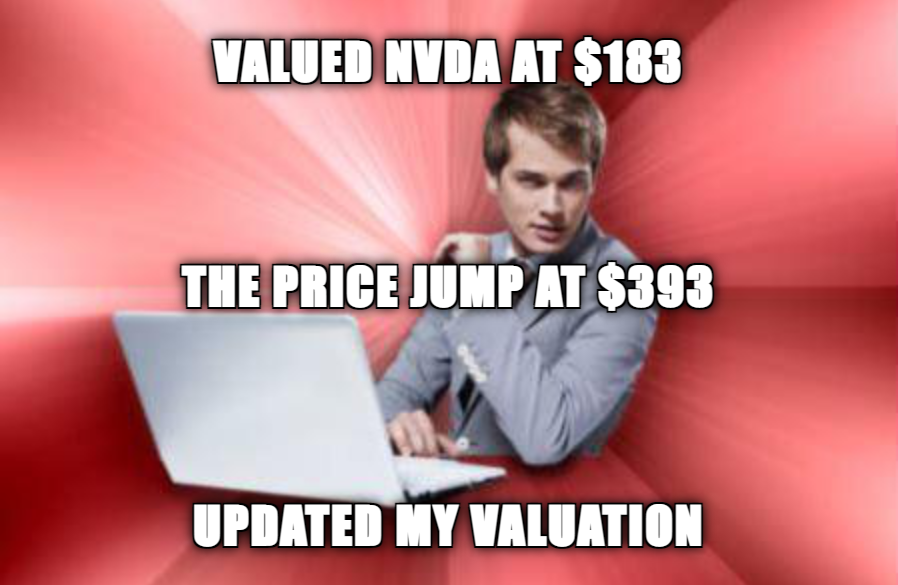 Just a month ago when I wrote "from this level, I would not expect a market-beating return from an investment in Nvidia today, looking at the next 10 years", I was valuing NVDA at around 183 USD per share. It is now 393USD per share and counting, so WTF happened? Do their latest earnings change everything? Or am I just a fool? Let's dig into it once again.
What new bytes of info do we have about NVDA?
The surge happened after announcing a revenue target of $11 billion for the quarter ending in July, far exceeding the consensus forecast of $7 billion. Microsoft's €10bn investment in OpenAI (the company behind ChatGPT) probably helped too.
Analysts say Nvidia is currently the only viable supplier of GPUs, leading the company to double prices to meet the overwhelming demand generated by the ChatGPT hype and the subsequent product release race between Big Techs like Microsoft, Google, Adobe etc. It seems Nvidia powers about 80% of the computers behind these so called "Generative AI" products. That gives them a lot of pricing power.
"If you order a GPU today, you're not getting it for a year," said C.J. Muse, senior managing director at Evercore ISI
How does it impact the NVDA valuation story?
Nvidia only gave guidance for next quarter, but the general Wall Street consensus is now that revenues will grow 58% for the full year, vs a forecast of 11% just a month ago. The thing is, after 5 years, analysts consensus expect revenues of about $108B, which is just $4B higher than projected in my last valuation, so it just change the pace of change rather than the final market size.
The biggest impact is not so much about revenue growth, but rather what it means for Nvidia pricing power, hence operating margins. Analysts expect an insane 62% EBIT margin by 2027, 4 percentage points higher than projected a month ago
These 2 changes alone explain a jump of 60% in the instrinsinc value I calculated a month ago. But at $295 USD per share, it is still 33% below today´s price . Here is the link to the updated valuation spreadsheet.
So what´s my next move?
Of the 49 analysts surveyed by FactSet, 41 have a buy rating on the stock. Their average 12-month price target on the stock falls just below $436. This is just a reminder that, as Aswath Damodaran, aka the "Dean of Valuation" puts it, Wall Street analyst don´t value companies, they "price" it. In fact, Aswath declared last week on Barron´s Streetwise podcast that he sold his personal shares of Nvidia because the price is too far away from the story he is willing to tell.
To answer the question from this post title, I feel pretty good actually, it is much harder to feel FOMO and other useless emotions when you do the homeworks and understand the valuation story. I will watch this story unfold from the sideline, and look for other candidates in the AI space, or wait for a better entry point for NVDA.
Stay safe, stay rookie and happy investing!