Is $DOCU a once-in-a-year investment opportunity?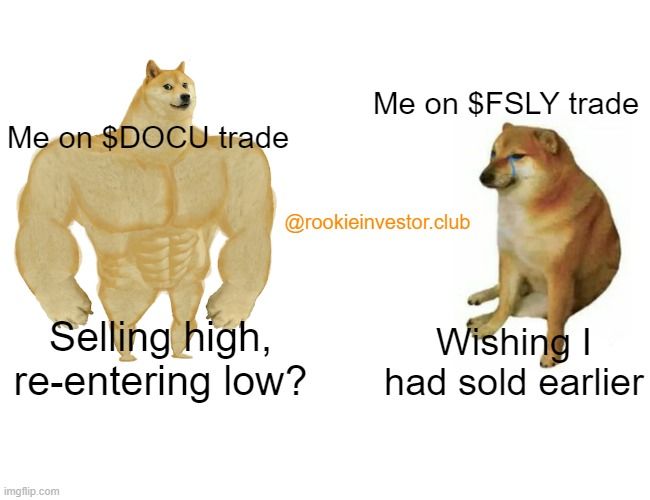 I am still at the beginning of my learning path, which has been acceleratings thanks to this newsletter. Writing has decupled my thirst for knowledge and made me think a lot deeper about each action I share with you.
On July 27th 2021, I wrote I was selling my DocuSign position because I could not make sense of its valuation. Today, after a 52% drop from the time I wrote this, I am revisiting my decision.
What is DocuSign about?
This dynamic software-as-a-service (SaaS) firm is best known for its e-signature technology. However, the efforts to expand product development outside DocuSign's main income stream are starting to pay off. The firm expects to earn close to $2.1 billion in sales in fiscal 2022, representing a 44 percent increase over the $1.45 billion earned in fiscal 2021.
This is a tiny portion of what management estimates to be worth $50 billion, divided evenly between the e-signature business & Agreement Cloud software and services sales.
Optionality at its best
$DOCU is now SaaS platform that supports "systems of agreement" inside a company. Using a four-part framework, DocuSign has built a rich capability within its Agreement Cloud. It includes a contract lifecycle management (CLM) software and DocuSign Analyzer, an artificial-intelligence (AI)-powered contract analyzer that yields insights to be used during the negotiation stage of a prospective agreement. I also love to see how it keeps moving first into new ecosystems, such as the new Zoom Apps platform, to allow video call participants to e-sign their paperwork live.
Of course, to fully capitalize on opportunities in both the digital signature and agreement industries, DocuSign will need to acquire momentum outside of its primary market, the United States, in the coming years. Currently, even though DocuSign's products are utilized in over 180 countries, foreign sales account for just 22 percent of the company's entire revenue.
During the company's most recent earnings call, CEO Springer said that DocuSign would spend aggressively to improve brand awareness outside of the United States and build up a foreign sales team to win market dominance in important areas such as the European continent.
So why the sudden drop in its share price?
DocuSign's stock price has fallen brutally after its earnings, it was ugly. The market is anxious that growth may stall because of some revenue deceleration, and I think the market was rationalizing on $DOCU extreme valuation. But the earnings report was far above forecasts. Revenue increased by 42% year on year in the third quarter. Operating cash flow is growing at an impressive 84 percent. Now that the market corrected Docusign valuation, the risk-reward ratio seems too good to pass.
More and more optionality
The company announced the formation of DocuSign Ventures, a program to invest in new start-ups, demonstrating an exciting long-term vision and an inside view into potential future acquisitions of disruptive businesses.
More skin in the game
My scorecard's lowest points for DocuSign are grit and skin in the game. Why? Because its founders are not involved anymore, and insiders own less than 2% of the company. At least, employees seem to approve its current CEO with its rating at an all-time high. But the CEO announced after the sudden price drop it was purchasing $5 Million in shares. It now owns a bit less than 1% of the company. Not much, but still a really positive signal from its top officer.
Moat
Financial fortitude
Not much to see here, as it is still losing money. But it has been a free cash flow machine, growing it twofold since last year. It now sits on 450 Million USD in cash, and a manageable amount of debt.
What about the valuation? Is it a deep value bet?
Not really; it is still valued at 14 times revenues, and 67 times its Free Cash Flow. But as I said before, it has doubled its FCF in the past 12 months. If its manages to grow at a 40% CAGR for the next 5 years, it would trade at 20 times free cash flow in 2026 (the SP500 average today). I am making a conservative assumption that DOCU should trade at the current market average 5 years from now. Analyst forecast its sales to grow 40% avg, and I am pretty confident it can grow its Free Cash Flow faster, as its margin has been steadily expanding. It means DOCU´s implied growth is very reasonable and even gives us some margin of safety.
Verdict
The market provides us with a chance to purchase a terrific business (It now sums 16 points on my scorecard) at a reasonable price. I do think you have just a couple of such clear opportunities in the year. I am reopening a position in DOCU and wish I had been equally smart valuating Fastly, Twilio, Roku, Peloton and Zoom 6 months ago. I learned a lot about valuation this year, and DOCU was one of the first stocks I applied these learnings. Luck also has its part, but it is at least a promising start for my investing journey.
Portfolio Risk management toward 2022
I have 5 positions in my red zone for extreme valuation, including one Tech giant. My next post will be solely about analyzing it, so stay tuned!
Disclaimer
The author of this post owns shares of DOCU. The Rookie Investor recommends DOCU. The Rookie Investor has a disclosure policy. This article by The Rookie Investor is not financial advice as it does not take account of your objectives, or your financial situation. We aim to bring you long-term focused analysis driven by fundamental data. Note that our analysis may not factor in the latest price-sensitive company announcements or qualitative material. eToro is a multi-asset platform that offers both investing in stocks and cryptoassets, as well as trading CFD assets. Please note that CFDs are complex instruments and come with a high risk of losing money rapidly due to leverage. 67% of retail investor accounts lose money when trading CFDs with this provider. You should consider whether you understand how CFDs work, and whether you can afford to take the high risk of losing your money.
Have feedback on this article? Concerned about the content? Get in touch with us directly.