Markets bleeding red again. This rookie secret tool kept him in "relax investing" mode💆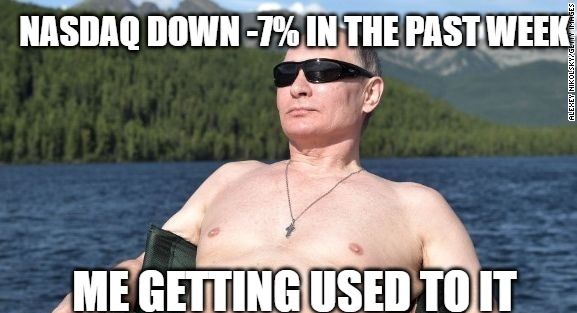 To relax on the beach, I personally need tools and services, such as a chair, an umbrella, and either a beer cooler, or someone I can ask for a fresh mojito, Caribean style.
The same goes for relaxed investing. I need tools that cut through the noise and give the bare minimum and timely information to help me make fewer, but better, decisions. I think these tools could help you too. If not, I would be happy to hear from you on how it could be more relevant to you.
Here is a summary of the tools I use and which just got an upgrade.
The Rookie Scorecard
I updated the user experience on the scoring section to simplify its interpretation. I have also integrated the experimental valuation score as directional information, not affecting the Rookie Score.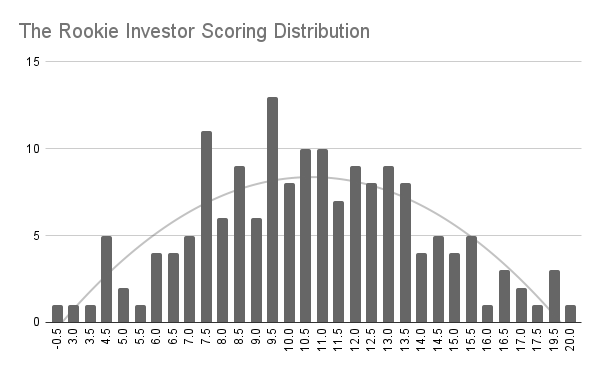 Currently, there are about 150 stocks that have been scored, part of the process is manual, and part is automated. The automated part is updated every day, while the manual is updated only when there are significant new pieces of information regarding the company business. Today's mean score is 10.5, with a standard deviation of 3.5 points. Everything above 14 is an absolutely rare fantastic business according to the framework. But above 10 is not bad either.
The Rookie alerts
150 stocks updated every day is a lot of info to swallow, which is not very relaxing. This is why I built alerts, or notifications, to deliver only the most significant and relevant pieces of information in a timely manner.
I have been enhancing the design and content of the alerts lately. Here are the ones available today:

Insider buying weekly summary (NEW): I realized getting a daily alert of insider buys may be an overkill, so I now have the option to just look at one weekly summary

Insider buying macro trends, monthly summary (NEW): that insight proved to be very valuable, so I built it into a monthly alert.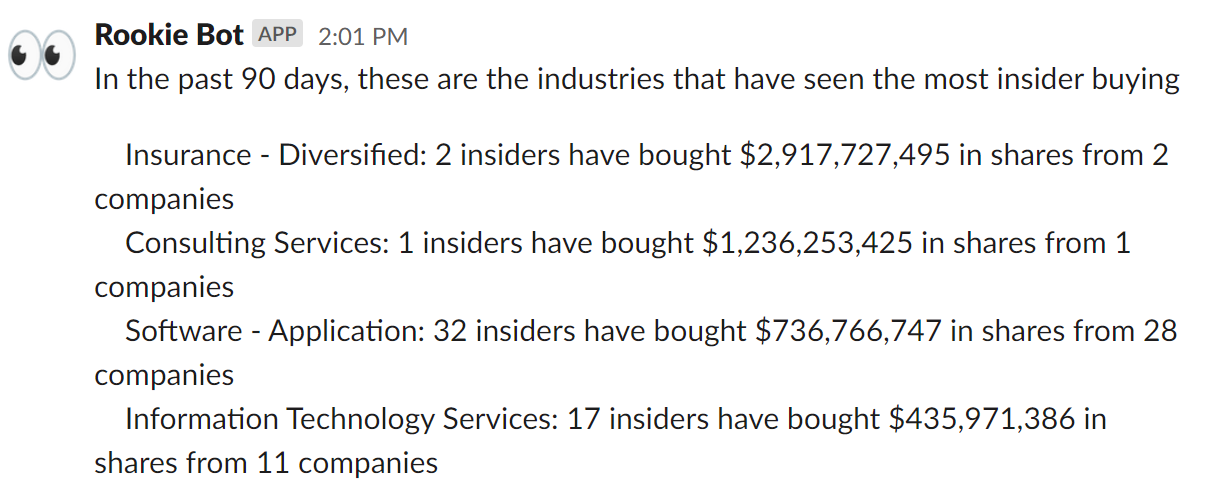 Market outliers (REVAMPED): I got tired of the daily "pull back alerts" as it is too overwhelming when markets are bleeding red, so I replaced it with this instead. It is a bi-weekly alert that summarizes which stocks are the outliers vs the market, both in terms of gains as in terms of losses.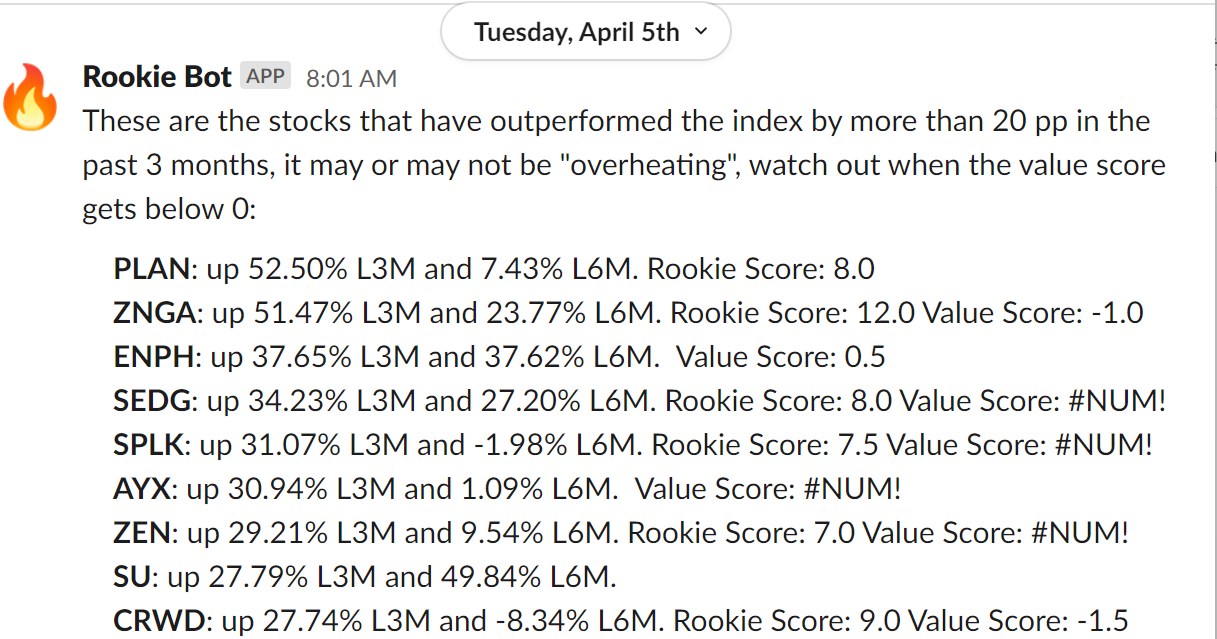 Stocks to watch: Stock scoring happens every day in the background, so this is a simple weekly update on the stocks that fall into either the "watch out" or the "I like it very much" zone. Manual due diligence is still needed, but it helps spot your next target.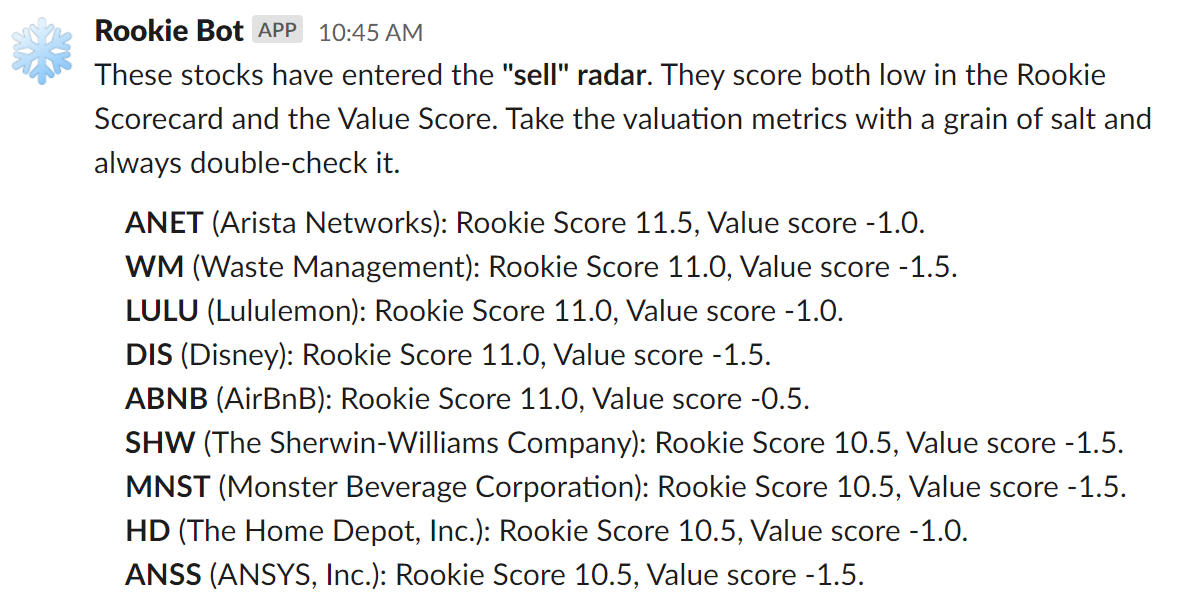 Notification system for your investing journey
These alerts are available through Slack, but could easily be replicated for Discord, Whatsapp, or email. Here is a poll of where you would prefer to set and receive it:
The Rookie Process
The alerts are not meant to be "buy/sell alerts", but instead to help me/you flag the most relevant developments, risks, or opportunities within the watchlist. It helps me focus on where to look to better prepare for my next move.
For example, the alerts can help me detect one of the stocks from my watchlist with fabulous fundamentals (rookie score above 14) has underperformed the markets by more than 20 percentage points. The alert can complement this info with its projected Free Cash Flow compared to its implied growth to quickly view its current valuation. If all the stars seem to align, I will put it on top of the list to make a manual deep dive.
What are the alerts showing right now?
Insiders: March was a busy month for Insiders on the watchlist, one of the most active months since 2021. No less than 32 insiders bought shares from 27 different companies. Most of the buying was happening in the Software industry.
Stocks that look strong: Google (GOOG) looks like the strongest from a checklist point of view, but I won't get into more details because of compliance matters (I work there). Then there is Paypal (PYPL). Paypal hurt me badly recently, but it looks very appealing at its current valuation (scores 1 point on the experimental valuation score) because it still has a powerful moat (scores 13.5 on the Rookie Scorecard). It is crazy to think it is back at the price it had at the bottom of the March 2020 crash (when the pandemic hit). In the same line of thought, I get ASML, DBX and ADSK on the top of the list.
Stocks that look dangerous: these are stocks lagging on the Rookie scorecard and looking expensive on an implicit Free Cash Flow growth basis. The alerts get PLNT, WMT, SBUX, ATVI and INTC on the list, to name a few.
How to access this info and alerts?
You can access the Rookie Score for free on the website database; I revamped how the info is displayed to make it more straightforward. This public database is updated once a month. If you want to have it with daily updates, you need to access it through our Slack channel.
Same for the alerts; you need to join the Slack channel. But I do publish part of the alerts on my Twitter and Instagram feeds for free. 
I did make public the Insider buying macro trend tracking to help find buying clusters by industry over time.
Disclaimer
The Rookie Investor has a disclosure policy. This article by The Rookie Investor is not financial advice as it does not take account of your objectives, or your financial situation. We aim to bring you long-term focused analysis driven by fundamental data. Note that our analysis may not factor in the latest price-sensitive company announcements or qualitative material. eToro is a multi-asset platform that offers both investing in stocks and cryptoassets, as well as trading CFD assets. Please note that CFDs are complex instruments and come with a high risk of losing money rapidly due to leverage. 67% of retail investor accounts lose money when trading CFDs with this provider. You should consider whether you understand how CFDs work, and whether you can afford to take the high risk of losing your money.
Have feedback on this article? Concerned about the content? Get in touch with us directly.