This carbon-free bet is too close to the Sun☀️
NextEra Energy is the single biggest producer of renewable energies in the US. NEE is indeed way ahead of its peers in this hot trend, so hot It may burn.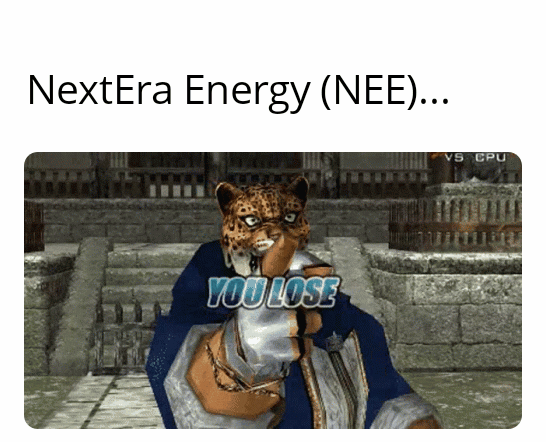 Investing is also a vehicle to do good, like funding companies that have a positive impact. NextEra is one of these bets you can feel good about, making the world a cleaner place while compounding your investment. But it needs to create value for it to make sense.
The Good
Few industries are as dull as utilities. However, no other electric utility company has NextEra Energy's long-term growth potential (NYSE:NEE).
NextEra is at the forefront of renewable energy innovation. NextEra is the electric utility in the United States that generates the most solar or wind power capacity, and it's just getting started. By 2030, the firm intends to construct 30 million more solar panels throughout Florida, generating an extra 10,000 megawatts of power. NextEra will be well ahead of the curve if climate change measures emerge from Washington, D.C. in the following years.
NextEra's leading ESG emphasis gives them a financial edge since it will most likely have an easier time transitioning into the new era of renewable energy.
The Bad
NextEra's value was similar to its rivals in 2016. Still, it has grown significantly since then, something like +160%, despite little growth in sales or profits. Of course, the business has benefitted from tailwinds around wind energy's first-mover advantage and expectations that the Biden administration would pour money into it. I agree that NextEra has first-mover advantages, but how valuable are those advantages to investors if they don't result in increased cash flow?
The Ugly
NEE will still need more financing to expand its renewable energy production. And their return on capital sucks (currently about 2% and decreasing for the past 10 years), so any slight increase in interest rate, which we know will happen, will make them destroy value over time. It means its growth prospects could instead make them destroy value even faster (if your cost of capital is higher than your return, each 1$ you invest for growth will transform into less than 1$). With the stock being the superstar of utility, which translates into an extremely rich valuation multiple than its peers (about 3x higher PE ratio than the industry median), there is too little room for missteps. I am closing my position in NEE, for now, I will keep you posted when I find a better carbon-free future bet.
The Rookie investor conducts scoring every day for a shortlist of 200 promising stocks, to help you flag potential issues. NEE scores only 8.5 out of 30, if you want to find the score for other stocks just search here.
The author of this post owns shares of NEE. The Rookie Investor recommends NEE. The Rookie Investor has a disclosure policy. This article by The Rookie Investor is not a financial advice as it does not take account of your objectives, or your financial situation. We aim to bring you long-term focused analysis driven by fundamental data. Note that our analysis may not factor in the latest price-sensitive company announcements or qualitative material.
Have feedback on this article? Concerned about the content? Get in touch with us directly.